I'm a transgender girl, who travels a bit for my work, and almost always I throw in an extra suitcase full of my dresses, makeup and accessories to allow myself to spend the weekend relaxing in my preferred gender of female. I'm not out at work, so it does mean I take both male and female clothes, and often as a result get queries on why I have so many bags with me. I just mention that it is because I like to go clothes shopping or picking up some presents for friends. Seems to do the trick.
Travelling with your girl items is generally not a problem. Most baggage handlers have seen all sorts on xrays, and there is nothing illegal, so it is all very easy. Clearly there are some countries where transgender folk are not as welcome, and I would not do this there, but in all the Western style countries, Latin America and Asia, no problems at all! Only issue I have from time to time is with the bag with my breast forms in being delayed through immigration from time to time, as I guess the gel inside may require a second glance. That can be annoying, as usually I have all my girls stuff in the one bag, so a delayed bag, can mean a missed night out.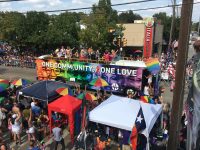 I travel to the USA a lot. San Francisco, Chicago, New York, Houston and Dallas are my main destinations. While in Texas in September, my work trip coincided with Dallas Pride, so at the end of the working week I picked up a car and drove up to Dallas. Pride in Dallas may surprise some, as many think of Texas and the South as only being "anti-trans" and "bathroom bans". Actually, Dallas has the fourth largest LGBT community in the USA, and is very welcoming. It's other parts of the Southern states that we have to be more careful in.
So I stayed at my usual B&B in Dallas, which is just behind the main LGBT strip of Cedar Springs Road. Think iconic clubs such as JRs, Station 4, and Sue Ellens. It is a compact area, but really comes alive at night, complete with the usual drag shows and entertainment. Speaking of which, if you are going to spend a weekend in Dallas, do try the B&B I stay at, The Daisy Polk Inn. It is a classic 1910 American Southern house, walking distance in high heels to the main clubs, and run by a very trans friendly gay couple. They will spoil you rotten!
I spent the weekend then at Dallas Pride, enjoying the parade, and soaking up the atmosphere. I dressed at Daisys, makeup, Ubered around town for some shopping and attended the parades and free entertainment during the day, and clubbing at night. All extremely welcoming in that Southern charm way.
It came to Sunday, and after the main parade, I was due to fly back to the UK. I was in such a buoyant mood, that I thought: "Well, why change – how about I fly as I am?" I have never done that from the USA. It concerned me about how border security would be, especially USA TSA (Transport Security Administration), and my passport would say a different gender. What would happen in the body scanner? What if I got a pat down or worse? So, as you do, I asked my friends on Facebook for their advice….. of course it was quite mixed. First there were those saying "Yes girl, go for it", and then the others saying "Are you mad? Don't risk it! What about your job etc?" I googled it, and found the TSA had a transgender policy. That and it being Pride weekend, I thought about it, and then concluded, that this was a perfect chance for me to try it out.
So I booked my Uber, touched up my makeup, and headed out to the airport. Nervously waiting to check in, I stood in the queue. I'm 6ft 2, so do stand out as quite tall for a girl, and it is easy to imagine everyone looking at you. And sure, there was a bit of that, but nothing uncomfortable. I held my courage and kept in line. When I got to check-in, there was lovely southern black man who was just gorgeous to me. He welcomed me with a massive smile, addressed me in the right gender, and made sure I was being looked after. He was simply awesome.
Next then, was my deepest fear:TSA, and getting through dressed as female, when my passport says "male". I was called up to the TSA lady, and she just smiled at me in a genuine fashion, checked my passport, looked at me, and waived me through. No dreaded questioning, or requests to take off my hair or makeup. Through to Xray, and it didn't beep or blink funny. Before I knew it, I was in the main terminal hall looking for my gate. I have had far worse security clearances as male, as I ever have had as female!
So, trip to the bar, pre-flight sauvignon blanc, and then boarding and settling in to my seat. Fortunately for me, I was flying business, so I did have a little luxury of not having to squeeze in with three other people. The steward came around shortly after take off to ask me what I would like for dinner. Coming up from behind, "Now Mr… ah…Ms…what would you like." Didn't miss a beat. He had been reading off the seat allocation, which was clearly in my male gender, so to see a female sitting there, threw him for a second. And even if he had got it wrong, I couldn't have blamed him for that!
Dinner, Sleep, Breakfast. Overnight flight of 10 hours. Morning time, and I felt the need to touch up my makeup, so off to the toilet to reset it. I did feel sorry for the guy queuing up behind me. I think he got the idea and went to another option. It's going to take me more than the usual time to simply have a pee to reset things to a place where I felt comfortable. I could have taken it all off, and changed back into male gender. And there was a big part of me very afraid I would not get through the automatic facial recognition gates in the UK with my makeup and hair on. But again I was feeling emboldened from my experience so far, and hell, I was coming home, so they couldn't exactly throw me out of the country…..
Off the plane then, through to passport control. Do I go with the long queue, or auto gates? I thought that I would go for it. Stood at the camera, scanned my passport, and 3 seconds later the green light and I was through and home! Wow. That was amazing. I guess the facial recognition has to be that good – it had absolutely no issue matching me to my passport – yet many "humans" cannot match male and female modes.
Finally I had a second leg up to Manchester to finish my trip, and went through to transfers. This time, my Mac foundation exploded in the xray! Was really annoying as I had a lot of other makeup in that bag, and it went everywhere. So off to the toilet to wash that off. I can only think it was a pressure thing. Visited the lady at Mac Heathrow, and purchased a new one – showed her my old one, and she said she had never seen that happening.
So what is my conclusion? Well, it was all a very nice experience, and having done it once, I would have no concerns doing it again. Approach it with a positive attitude – the airport staff are well trained in diversity and you have the right to fly how you wish to present. (Perhaps you may struggle in certain fetish gear). Just make sure your ID card matches your ticket (your gender presentation does not need to do so) and you are good to go. Next time for me is to fly back to the USA from UK. Have a lovely 2018 – and go for it.