Simply press play for our short tutorial on how to select your dress, skirt and blouse size.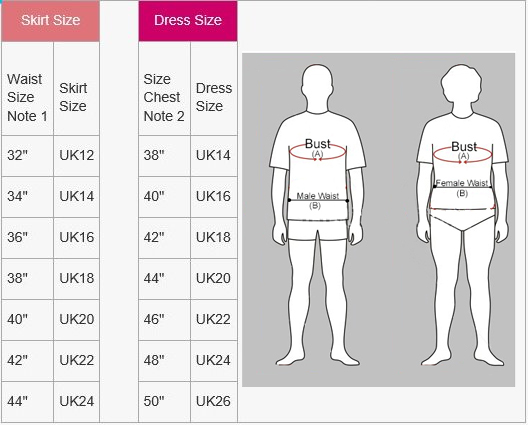 What size dress am I
The chart is a guide to selecting the correct garment size based on two critical dimensions:
Your male chest measurement or Bust. This is the measurement under your arm, across the nipples to the nearest inch. The dress size calculations are based on you adopting a B or C cup breast form.
Your normal male waist size this is the size you purchase your jeans or trousers in.
How the guide works
Skirt size – measure your normal waist in this example 34″ look up the corresponding skirt size for 34″ which in this case is a UK14
Blouse size – Measure across your chest / Bust in this example 40″ look up the corresponding Dress size which in this case is a UK16.
Dress Size – When selecting your dress size we have to take the larger size into consideration. So if you have a 34″ waist and a 40″ chest the largest size is that associated with the chest (40″) so your dress size would be a UK 16.
There are sadly quite a few situations where these guidelines do not work effectively:
An assumption is made that you are a typical male shape i.e broader shouldered than hips.
You do not have a large protruding tummy i.e your waist measurement is not bigger than your chest or at least 6 inches difference i.e  32″ waist 38″ chest.
The maximum size breast forms you are considering is a B/C cup for every cup size large you may have to go up one chest size.
What Size Dress am I – Main Point
1. When selecting your clothing try and ensure it has a much "stretch" in it as possible.
2. Dress for your age or at least the age you wish to appear.
3. Try to find styles that complement your basic body shape.
If you would like to see more video on this and related subjects then visit our sister CROSSDRESSING LIFESTYLE Youtube channel today!